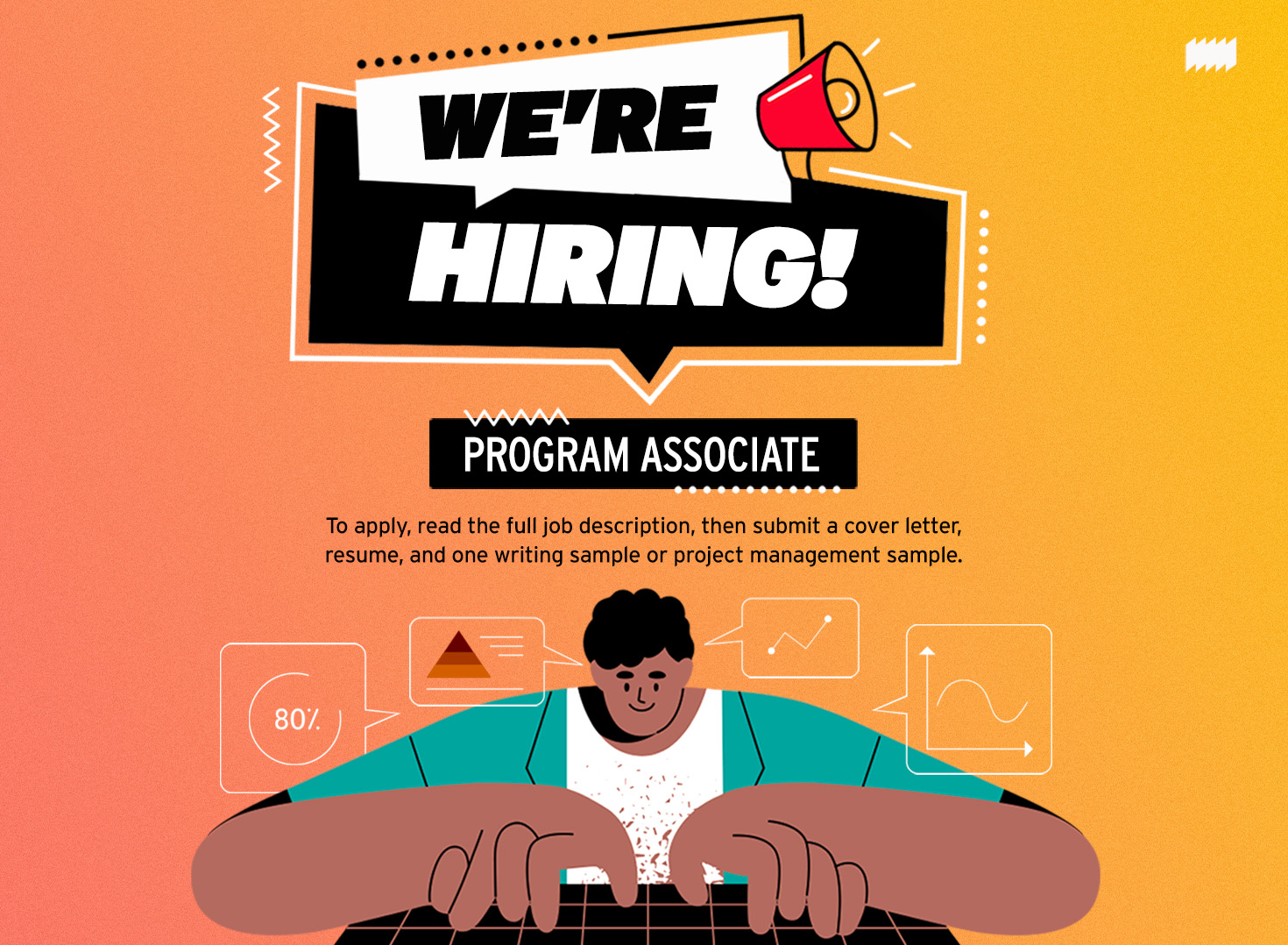 Pillars Fund
We're Hiring: Program Associate
Posted By Pillars Fund / July 15, 2022
About Pillars
Pillars Fund is a national nonprofit organization that amplifies the leadership, narratives, and talents of Muslims in the United States to advance opportunity and justice for all. Since our founding in 2010, Pillars has distributed more than $7 million in grants to Muslim organizations and leaders who advance social good. We invest in community-focused initiatives, push back against harmful narratives, uplift Muslim stories, and organize Muslim donors to give together strategically.
About Catalyze Fund
The Pillars Catalyze Fund supports a vibrant, multidisciplinary network of Muslim-led and focused nonprofit organizations that advance social good. The Catalyze Fund hosts an annual grant cycle seeking organizations that boldly reimagine public safety, promote mental health and wellness, and build civic power in Muslim communities. In 2022, Catalyze Fund supported 32 grantees across the country through single year and multi-year awards.
The Role
Pillars Fund seeks an exceptional Program Associate to provide critical management support for our expanding Catalyze Fund. This person is responsible for executing the administrative tasks of our grant program and coordinating aspects of our Catalyze Fund programming. This is an opportunity to gain unique insights into the nonprofit and philanthropic sector and to work alongside a supportive and high-energy team. The Program Associate works closely with other members of our highly collaborative team and reports to the Catalyze Fund Program Director.
Primary Responsibilities
Grant Management
Administer the Call for Ideas process for new Catalyze Fund applicants
Track, maintain, and analyze information about each new application and award and ensure that they are progressing in a timely manner
Provide technical assistance to applicants, grantee partners, and fellows throughout the grant partnership
Draft and/or edit correspondence with applicants, grantee partners, and fellows
Support the process of awarding funding once grants have been approved, including preparing, sending, and tracking agreements
Analyze and create periodic reports and presentations that summarize common themes across award portfolios to advance team learning, strategy refinement, and effective grantee/awardee support
Catalyze Fund Programs
Deliver capacity building support for grantee partners, in coordination with Program Director
Execute and arrange logistics for Catalyze Fund programs, including funder briefings, speaking engagements, community convenings, and other events
Coordinate and participate in grantee check-ins and site visits
Advise and support the communications team on grantee-related content development
Research and stay on top of strategies, evolving issue areas, and philanthropic practices related to our grantee-partners, our three focus areas, and grantmaking
Catalyze Fund Administration
Maintain contact information and provide scheduling support for the Catalyze Fund team
Draft and maintain weekly agendas, preparation documents, and supplemental materials for Catalyze Fund team
Prepare materials for distribution and coordinate correspondence with key stakeholders, including grantee partners, Board of Directors, Trustees, institutional funders, and individual donors
Serve as back-up to Program Managers and other staff, as needed, and attend relevant meetings/conferences to gather information and knowledge to advance the work of the programs teams
Attributes of the Program Associate
Embodiment of Pillars' values and commitment to amplifying the leadership and voices of Muslims in the United States
Familiarity with and enthusiasm about Muslim communities in the United States and the issues that impact us across multiple identities
Ability and willingness to effectively apply a social justice framework at every stage of planning and execution
Exceptional attentiveness to detail and organization and ability to solve problems
Excellent communication skills, including the ability to effectively summarize and explain situations
Exceptional writing and editing skills and ability to clearly synthesize concepts for multiple audiences
Strong proficiency with data collection, review, analysis, and reporting
Strong proficiency with the use of software platforms and high degree of comfort with multiple technology applications, including Google Suite and basic databases, and ability to swiftly learn other systems, including
Submittable and Salesforce
Excellent time management and project management skills, including an ability to take direction from multiple people while managing competing priorities, to work independently, and to set and meet deadlines
Excellent interpersonal skills and ability to demonstrate discretion, empathy, cultural competency, and joy to effectively relate to and work with diverse partners and stakeholders
Compensation and Benefits
The Pillars Fund offers a competitive total compensation package including health, employer-subsidized dental and vision, basic life insurance, short- and long-term disability, parental leave, and generous time off. Pillars believes in investing in talent and providing opportunities for professional growth. We offer professional development such as training, conferences, and other opportunities to grow one's leadership.
The salary for this role is $60,000.
Location
This is a full-time, U.S.-based remote position. Pillars has a physical office in Chicago, where most of the team is based, and staff have the option to work from the office if desired. This role includes some travel if based in Chicago; more if remote to account for travel to Chicago. This includes some travel and attendance at events on nights and weekends.
To Be Considered
Pillars ​is ​committed ​to ​building ​​an ​organization ​that actively pursues equity ​and ​fosters ​an environment ​of inclusion. Pillars Fund embraces diversity across multiple dimensions and does not discriminate against any employee or job applicant based on race, ethnicity, national origin, citizenship, socioeconomic background, religion, gender, sexual orientation, age, disability, pregnancy, marital status, family responsibilities, or any other protected characteristic as established under law. This policy applies to all terms and conditions of employment, including, but not limited to, hiring, termination, promotion, transfer, layoff, leaves of absence, compensation, and training.
Pillars will make reasonable accommodations for people with disabilities, in our hiring process and for our team. Please let us know at any stage of the process if you need any accommodations to fully participate. Some examples include, but are not limited to:
Providing written materials in different formats
Modifying application/assessment exercises
Adjusting the interview format (in most cases, interviews take place via Zoom)
Providing qualified readers or interpreters
Those wishing to be considered should submit a cover letter, résumé or CV, and writing sample or project management sample to this form. If available, please submit up to three examples of additional relevant published work or project management for review. In your cover letter, please explain why you are interested in this role and how your experience and skills are relevant to the responsibilities and attributes outlined above.
Pillars will keep all inquiries and submissions confidential. Candidates who have been selected for an interview will be contacted.
Please apply by August 1, 2022, for priority consideration.
Questions? Email us at careers@pillarsfund.org.