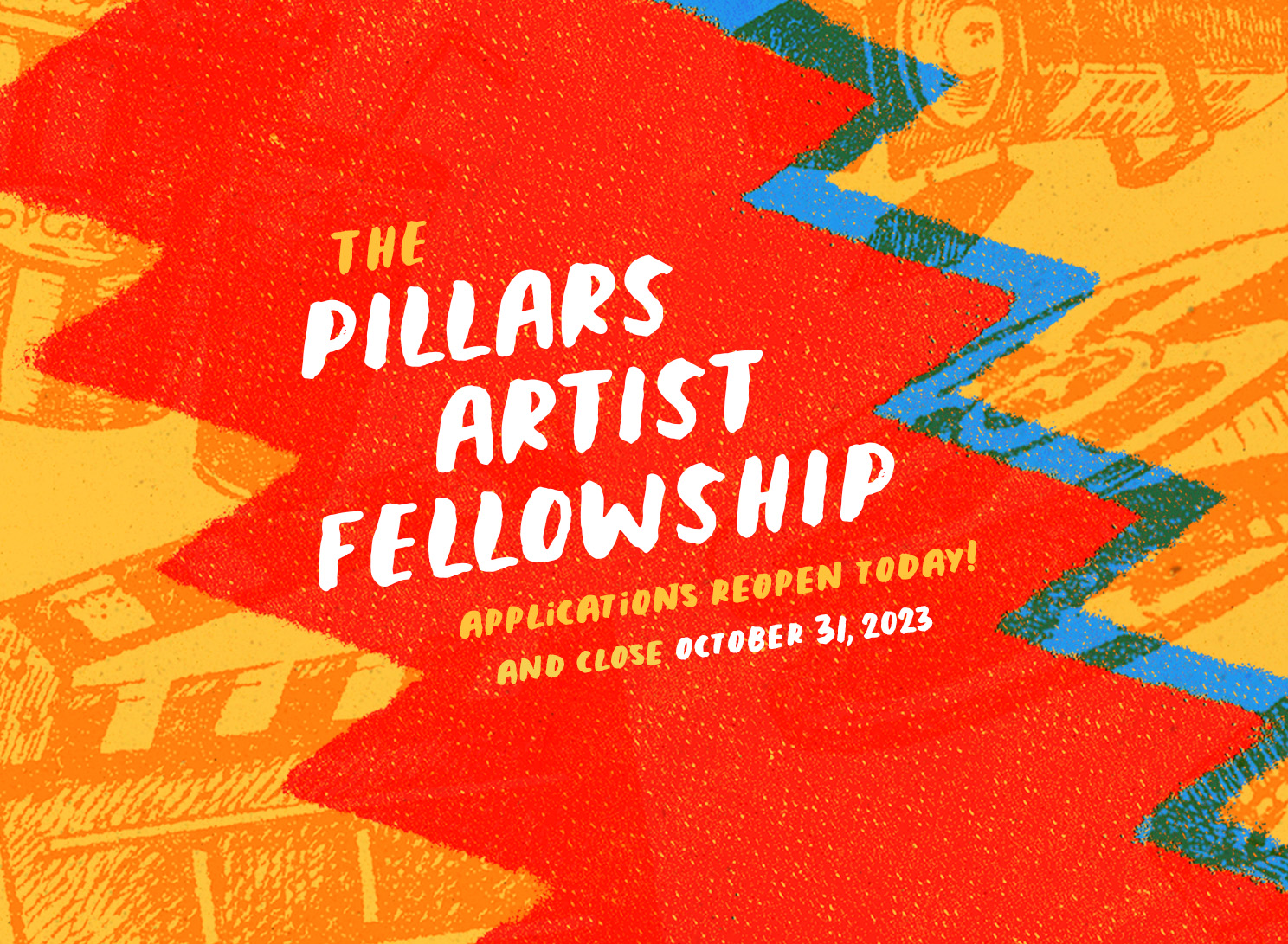 Pillars
Applications Reopen: Fellowship Backed by Pillars Fund and Riz Ahmed's Left Handed Films Supports Muslim Directors and Screenwriters
Posted By Pillars Fund and Left Handed Films / October 3, 2023
As Hollywood writers return to work, the 2024-25 Pillars Artist Fellowship is reopening applications for Muslims behind the camera.
CHICAGO — After a five-month hiatus due to the Writers Guild of America strike, applications for the 2024-25 Pillars Artist Fellowship are reopening today for Muslim directors and screenwriters in the U.S. and U.K. through October 31.
Building on a successful inaugural year in 2022 and sponsored by Netflix and Amazon MGM Studios, the 2024-25 Pillars Artist Fellowship supports Muslim creators whose presence behind the screen will be game-changing for the entertainment industry. Selected fellows will each receive an unrestricted award of $25,000, high-quality one-on-one mentorship, professional development in their field and access to a trailblazing advisory committee of award-winning actors, directors, producers, and writers.
"Muslim artists are the past, present, and future of entertainment," says Kashif Shaikh, Pillars Fund Co-founder and President. "We are proud to invest in storytellers that are telling joyful, honest stories about our communities."
"The 2022-23 Pillars Artist Fellowship was an exciting achievement: Our fellows joined prestigious writers' rooms, sold their work to major companies, and won awards at competitive festivals." says Arij Mikati, Pillars Fund Managing Director of Culture Change. "We hope to build on this experience to support even more Muslim talent."
To qualify for the fellowship, applicants must meet the following criteria:
Applicants must be directors or screenwriters who identify as Muslim.
Applicants must live in the U.S. or U.K. Citizenship is not required.
Applicants must be adults 18 years old or older.
Applicants must be emerging artists. The Pillars Artist Fellowship defines an emerging artist as a storyteller with some experience who meets one to three of the following criteria:

Has an agent or manager
Has directed a short or feature in the past five years
Has won a screenwriting award in the past five years
Has participated in another lab/fellowship in the past five years
Is a member of a professional guild or organization (for example, DGA, WGA, Directors UK)
Has staffed on a television show or received a writing credit on a film
Has worked as an assistant in the entertainment industry for two or more years
Has worked in another field in the entertainment industry for two or more years
Applications are due October 31, 2023, at 5 p.m. Central Daylight Time / 11 p.m. British Summer Time.
More details about the fellowship can be found on this web page.
ABOUT PILLARS FUND
Pillars Fund amplifies the leadership, narratives, and talents of Muslims in the United States to advance opportunity and justice for all. Since our founding in 2010, Pillars has distributed more than $9 million in grants to Muslim organizations and leaders who advance social good. Pillars invests in community-focused initiatives, push back against harmful narratives, uplift Muslim storytellers, and organize Muslim donors to give together strategically. Learn more at pillarsfund.org.
ABOUT LEFT HANDED FILMS
Left Handed Films was founded by Academy Award winner Riz Ahmed with a mission of stretching culture through telling fresh stories in bold ways. In early 2021, it was announced that Left Handed Films had signed a first-look TV deal with Amazon Studios and hired former AMC exec Allie Moore to oversee production and development. THE LONG GOODBYE, a short film produced by Left Handed Films and written by/starring Ahmed, won the 2022 Academy Award for Best Short Film (Live Action). Left Handed Films also produced Jonas Poher Rasmussen's FLEE, which made history as the first movie to earn Oscar nominations for Best Animated Feature, Documentary Feature and International Feature. In 2020, the company produced MOGUL MOWGLI, directed by an exciting new voice in Bassam Tariq, which won the Fipresci International Critics' Prize at the Berlin Film Festival, was nominated for a BAFTA Award for 'Best British Film,' and received six British Independent Film Awards nominations, with the film taking home 'Best Debut Screenwriter' for Ahmed and 'Best Music.' Left Handed Films currently has a wide-ranging slate of upcoming projects including an adaptation of EXIT WEST for Netflix in partnership with the Obamas' Higher Ground Productions and Joe and Anthony Russo's AGBO, a reimagining of HAMLET, and the comedy series THE SON OF GOOD FORTUNE for Amazon alongside Lulu Wang's Local Time.