Being a Trustee
Pillars' trustees make up a non-governing group of families and individuals who power Pillars' grantmaking. The trustees consist of donors who contribute a minimum of $25,000 annually to our Catalyze Fund grants. By harnessing their collective resources, our trustees are supporting sustainable change and building power for Muslim communities across the United States.
Please email Salwa Ansari at strategicgiving@pillarsfund.org if you are interested in learning more about becoming a trustee.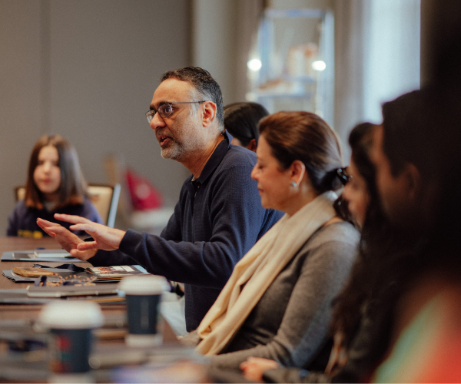 Our Impact
Pillars is building on more than a decade of harnessing Muslim leadership. Pillars staff, grantee partners, and fellows have secured rights for all people in the U.S. Supreme Court, expanded access to civil liberties for currently and formerly incarcerated people, published landmark research to change the way communities respond to suicide, trained hundreds of immigrants to seek elected office, and convinced some of the biggest studios in Hollywood to change their approach to Muslim representation on and off screen.
Since Pillars' founding in 2010:
We have distributed more than $9 million in grants to Muslim-focused nonprofits in the U.S.
We have launched the Pillars Artist Fellowship in partnership with Riz Ahmed to invest in Muslim directors and screenwriters with unrestricted awards of $25,000 and professional and creative mentorship.
We have received millions of dollars from funders, including MacKenzie Scott, Ford Foundation, W.K. Kellogg Foundation, and Skoll Foundation, among others.
"It means so much to me to be able to contribute to an organization that is working hard to enhance the profile, the lives, the reputations, and the service efforts of Muslims in this country."
—Masu Haque-Khan, Pillars Fund Trustee
Frequently Asked Questions
What does my donation fund?
100% of your donation goes to the Catalyze Fund to support transformative Muslim-focused nonprofits in the U.S.
Staff salaries and administrative overhead are funded separately by our foundation partners.
How does Pillars select our Catalyze Fund grantee partners?
Catalyze Fund grantee partners are selected after a rigorous evaluation process.
To qualify for the Catalyze Fund, an organization must be a 501(c)(3) nonprofit serving Muslim communities in the U.S. and their work must align with one of Pillars' three focus areas: reimagining public safety, promoting mental health and wellness, or building civic power. Ultimately, Pillars is looking for bold ideas that offer solutions to positively transform Muslim communities.
At the start of the grant cycle, Pillars invites qualified organizations who meet the above criteria to submit a grant application. Pillars staff and a panel of community reviewers review and evaluate all applications. The team then invites a select group of new applicants to submit a more extensive full proposal. After reviewing full proposals, grantmaking decisions are made and awards dispersed.
What does board governance look like?
What is the purpose of strategic giving?
Pillars is a bridge between strategic philanthropists and the Muslim-focused organizations making a difference across the U.S. We provide trustees with expert analysis on projects that otherwise may have remained under their radar. And giving to Pillars allows you to have an outsized effect on multiple issues relevant to Muslim communities in the U.S., something that cannot be achieved through individual gifts alone. By working together with other Muslim philanthropists who share your values, your collective contributions support necessary, sustainable change.
After the donation is made, what does trustee membership entail?
In addition to taking part in creating a greater, lasting impact on critical issues facing Muslims in the U.S., Pillars trustees:
Receive invitations to exclusive events, from our national convening to artist-focused events to local trustee gatherings hosted across the country
Gain rare access to our Catalyze Fund team and their knowledge of more than 500 Muslim-led initiatives in the U.S.
Learn from our monthly update emails about exciting Pillars Fund projects and engagement opportunities.