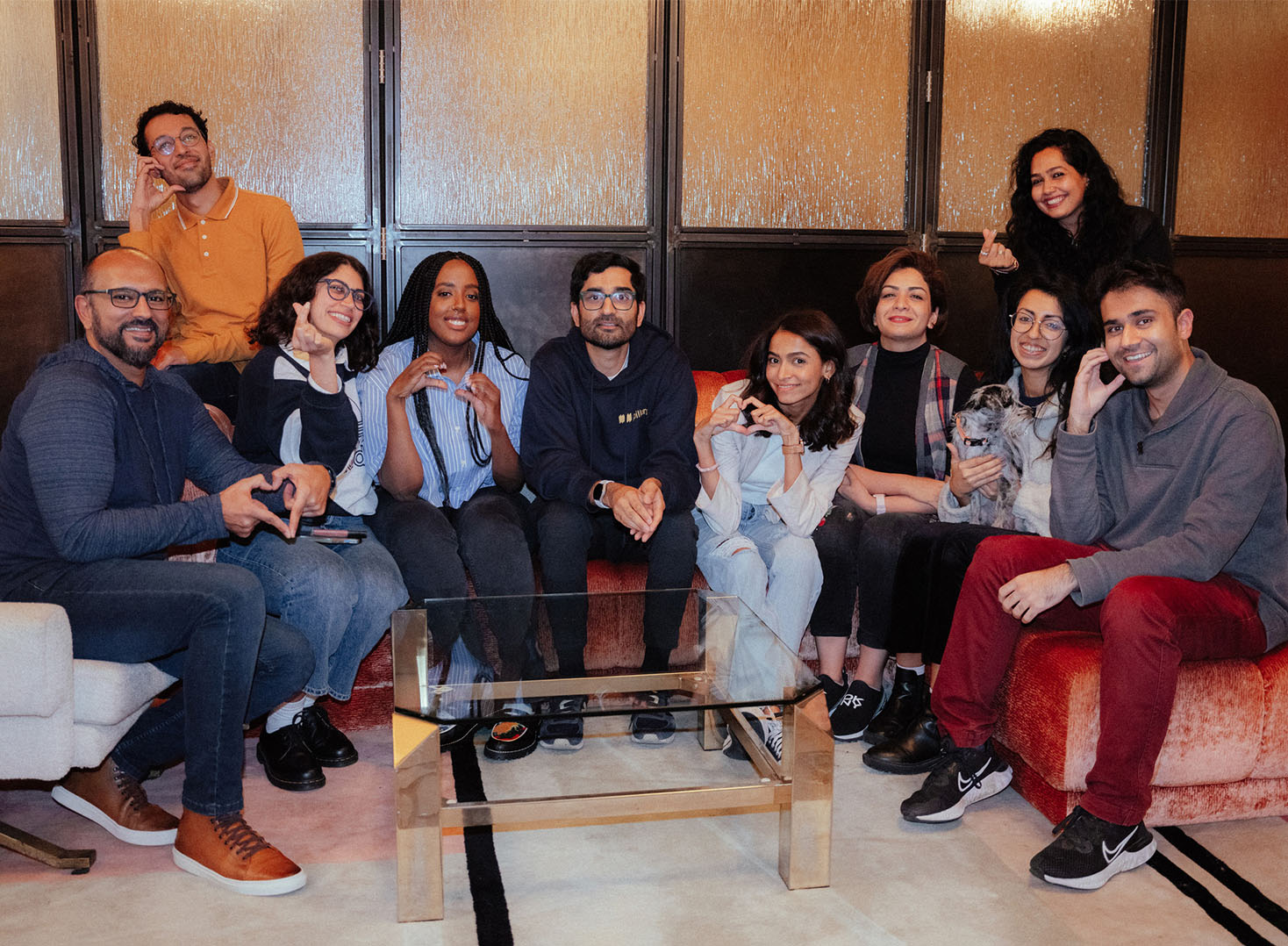 Pillars Fund
Pillars Artist Fellows Join a Wave of Muslim Talent Ready to Take on the Entertainment Industry
Posted By Pillars Fund and Left Handed Films / March 17, 2023
The creative excellence of these 10 writers and directors, who completed their fellowship program with Pillars Fund and Riz Ahmed's Left Handed Films, is shaping the future of film and television.
LOS ANGELES — On March 17, the inaugural cohort of Pillars Artist Fellows will complete their 10-month program, designed to catapult their careers in entertainment. These talented writers and directors are 10 fresh faces to watch as they take on the film and television industries after a year of mentorship, guidance, and honing their craft.
The Pillars Artist Fellowship is a first-of-its-kind program—presented by Pillars Fund and Riz Ahmed's Left Handed Films and sponsored by Netflix and Amazon Studios—that supports emerging Muslim creators whose presence behind the screen will be game-changing for the entertainment industry.
The fellows have already made exciting moves. Karim Khan's award-winning Fringe play "Brown Boys Swim" ignited a bidding war between top production companies and is now in development to become an episodic series. Ali Imran Zaidi is developing a narrative audio series with actress Janina Gavankar and fellowship advisor Hasan Minhaj attached to co-produce and star. Nadra Widatalla wrote for the upcoming series "Mrs. Davis," created by Damon Lindelof and Tara Hernandez, and Aqsa Altaf was selected as a Vimeo staff pick—to name just a few highlights. Learn more about our 10 graduating fellows.
"Our fellows' talent and creative brilliance have surpassed our wildest expectations," said Arij Mikati, Pillars Managing Director of Culture Change. "I can't wait for more of the world to meet their work."
"The Pillars Artist Fellowship not only fosters relationships between emerging writers and those that are established, but also allows for a community of artists to share ideas about the industry as well as celebrate personal triumphs," said Marcus Gardley, screenwriter, playwright, and Pillars Artist Fellowship mentor. "Working with them has inspired me to do more."
Over the course of the fellowship, the fellows participated in retreats in New York City, London, and Los Angeles to learn, connect and create outside the boundaries of anti-Muslim bias. Together they explored the history and legacy of Muslim storytelling, learned directly from celebrated creatives like Asif Kapadia and Shaka King, sat down with Muslim icons like Malala Yousafzai and chef Asma Khan, and demystified secrets of the trade with UK television commissioners, film executives, and other industry insiders.
"Each Pillars Artist Fellowship year is custom-designed for our current cohort, so each fellow can have a transformative experience," said Kashif Shaikh, Pillars Co-Founder and President. "We are creating an avenue for career advancement for Muslim creatives in the industry that has never before existed."
"The first cohort of Pillars fellows is an immensely talented group of artists. It's been incredible to witness what they've achieved in just a year," said Riz Ahmed and Allie Moore of Left Handed Films. "There are many barriers to entry in Hollywood—from building contacts, to finding mentors, and having the financial security needed to bet on your own vision. The Pillars Artist Fellowship has created a program that helps with some of those hurdles. We're grateful to everyone who helped make this first year possible—from the mentors and speakers who have generously shared their time and skills to the funders that have chosen to invest in Muslim talent and a more representative industry."
Between retreats, fellows' virtual curriculum included instructional webinars, panel discussions, and one-on-one meetings with hand-picked industry mentors who provided creative and professional guidance. Fellows also had access to a trailblazing advisory committee of award-winning Muslim actors, directors, producers and writers.
"The Pillars Artist Fellows truly are the future of television and cinema with unique distinct voices and style," said Nida Manzoor, Pillars Artist Fellowship advisor and writer, director, and creator of "We Are Lady Parts." "The Pillars scheme has given these promising artists real, meaningful insight, experience and access to the industry, and what's most impressive is how the fellowship tailored the scheme to meet the needs of the different artists, really taking the time to curate the best experience."
Applications for the 2024 Pillars Artist Fellowship will open on May 1. Visit the Pillars website for more information.
ABOUT PILLARS FUND
Pillars Fund amplifies the leadership, narratives, and talents of Muslims in the United States to advance opportunity and justice for all. Since our founding in 2010, Pillars has distributed more than $7 million in grants to Muslim organizations and leaders who advance social good. We invest in community-focused initiatives, push back against harmful narratives, uplift Muslim storytellers, and organize Muslim donors to give together strategically. Learn more at pillarsfund.org.
ABOUT LEFT HANDED FILMS
Left Handed Films was founded by Academy Award winner Riz Ahmed with a mission of stretching culture through telling fresh stories in bold ways. In early 2021, it was announced that Left Handed Films had signed a first-look TV deal with Amazon Studios and hired former AMC exec Allie Moore to oversee production and development. THE LONG GOODBYE, a short film produced by Left Handed Films and written by/starring Ahmed, won the 2022 Academy Award for Best Short Film (Live Action). Left Handed Films also produced Jonas Poher Rasmussen's FLEE, which made history as the first movie to earn Oscar nominations for Best Animated Feature, Documentary Feature and International Feature. In 2020, the company produced MOGUL MOWGLI, directed by an exciting new voice in Bassam Tariq, which won the Fipresci International Critics' Prize at the Berlin Film Festival, was nominated for a BAFTA Award for 'Best British Film,' and received six British Independent Film Awards nominations, with the film taking home 'Best Debut Screenwriter' for Ahmed and 'Best Music.' Left Handed Films currently has a wide-ranging slate of upcoming projects including an adaptation of EXIT WEST for Netflix in partnership with the Obamas' Higher Ground Productions and Joe and Anthony Russo's AGBO, a reimagining of HAMLET, and the comedy series THE SON OF GOOD FORTUNE for Amazon alongside Lulu Wang's Local Time.