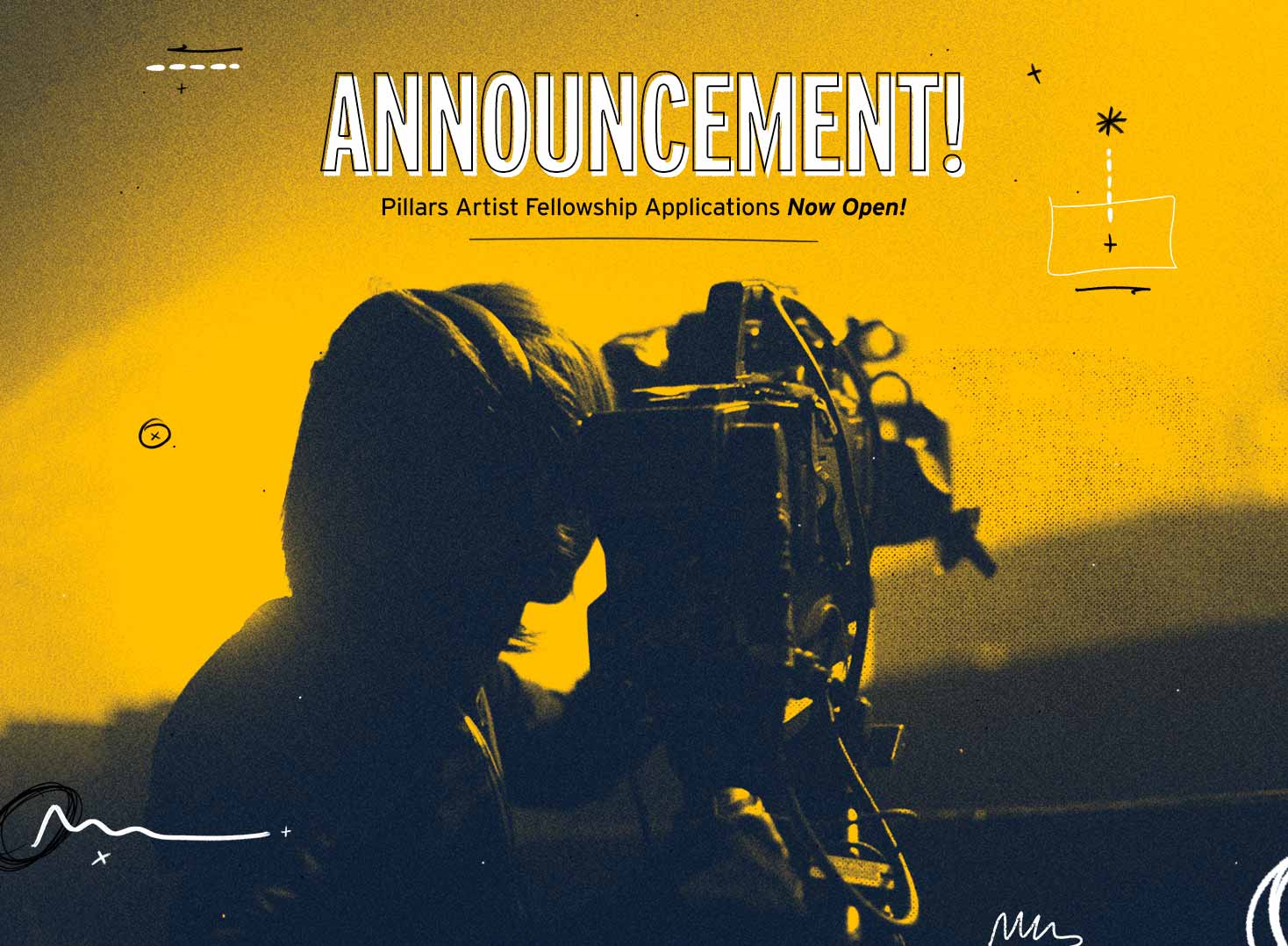 Pillars Fund
Call for Applications: Pillars Artist Fellowship
Posted By Pillars Fund, Riz Ahmed, Left Handed Films / July 29, 2021
Pillars Fund, Riz Ahmed and Left Handed Films partner to support Muslims behind the camera with new fellowship for Muslim directors and screenwriters.
Applications for the Pillars Artist Fellowship will be open to emerging Muslim directors and screenwriters July 29 through September 1 at 4:59 p.m. CDT.
The Pillars Artist Fellowship is a first-of-its-kind program to support Muslim directors and screenwriters on their pathways to success. Selected fellows will each receive an unrestricted award of $25,000, high-quality one-on-one mentorship, professional development in their field and access to a trailblazing advisory committee of award-winning actors, directors, producers, and writers. Committee members include Riz Ahmed, Bisha K. Ali, Mahershala Ali, Sana Amanat, Karim Amer, Rosa Attab, Yann Mounir Demange, Lena Khan, Nida Manzoor, Hasan Minhaj, Nijla Mu'min, Jehane Noujaim, Bassam Tariq and Ramy Youssef.
"At Pillars, we seek to value Muslim artists as much as we value the art they give us," says Kashif Shaikh, Pillars Fund Co-founder and President. "Investing in storytellers means investing in art that shapes our culture and our future."
"Investing in storytellers means investing in art that shapes our culture and our future."
The fellowship builds on findings from last month's groundbreaking study from the USC Annenberg Inclusion Initiative that revealed the extent to which Muslim characters are missing on screen and are depicted with dangerous stereotypes. In response to these stark findings, Pillars Fund announced the launch of The Blueprint for Muslim Inclusion alongside the Pillars Artist Fellowship.
"The Pillars Artist Fellowship is not about creating 'positive' stories about Muslims. We developed this program to support Muslims who want to tell authentic and provocative stories, full of the mess, nuance and beauty that exists across the human experience," says Arij Mikati, Pillars Fund Managing Director of Culture Change. "Muslim communities often face economic hardship—Muslims in the U.S. are the most likely faith community to live in poverty, and half of British Muslims live below the poverty line. Providing artists with the financial means to pursue their talents without worrying about paying the bills can be transformative."
To qualify for the fellowship, applicants must meet the following criteria:
Applicants must be directors or screenwriters who identify as Muslim.
Applicants must be emerging artists. These are artists who are at a point in their career where they're honing in on their style and have had 0–2 mainstream opportunities (such as being staffed on a major project in a writer's room).
Applicants must live in the US or UK (citizenship is not required).
Applicants must be adults 18 years old or older.
More details about the fellowship can be found here.
ABOUT PILLARS FUND
Pillars Fund amplifies the leadership, narratives, and talents of Muslims in the United States to advance opportunity and justice for all. Since our founding in 2010, Pillars has distributed more than $6 million in grants to Muslim organizations and leaders who advance social good. We invest in community-focused initiatives, push back against harmful narratives, uplift Muslim stories, and give collectively to generate resources within Muslim communities for Muslim communities. Learn more at pillarsfund.org.
ABOUT RIZ AHMED
Riz Ahmed is an Academy Award nominated actor, writer, producer, and musician, as well as one of TIME's 100 Most Influential People (listed in 2017). Themes of inclusion and representation run throughout Riz's work as a creator and activist, from his roles in projects such as SOUND OF METAL, THE NIGHT OF, and MOGUL MOWGLI, to his essay in Nikesh Shukla's "The Good Immigrant," his 2017 address to Parliament on diversity in the creative industries, and his appointment to the Mayor of London's 2021 Commission for Diversity in the Public Realm. Whether he's using his power as a producer to bring refugee narratives to our screens via his production company Left Handed Film, writing about the inequalities of the Covid pandemic as contributing editor of British Vogue, or exploring Britishness through his critically-acclaimed music release "The Long Goodbye," the Gold List A100 honoree is driven by a mission to stretch culture, reimagine our narratives and landscapes of belonging, and include rather than divide.
ABOUT LEFT HANDED FILMS
Left Handed Films is the production company started by Riz Ahmed, focused on stretching culture through telling fresh stories in bold ways. In Jan 2021, it was announced that Left Handed Films inked a first-look television deal with Amazon Studios and hired former AMC exec Allie Moore to oversee production and development.
Left Handed Films has several projects on the horizon including Mogul Mowgli, a genre-busting, culturally hybrid, and award-winning debut feature from an exciting new voice in Bassam Tariq. The film is co-written, starring and produced by Ahmed and premiered at the Berlin Film Festival where it won the Fipresci International Critics' Prize. It was nominated for a BAFTA Award for 'Best British Film' and received six British Independent Film Awards nominations, with the film taking home 'Best Debut Screenwriter' for Ahmed and 'Best Music'. Strand will release the drama in the U.S. this year.