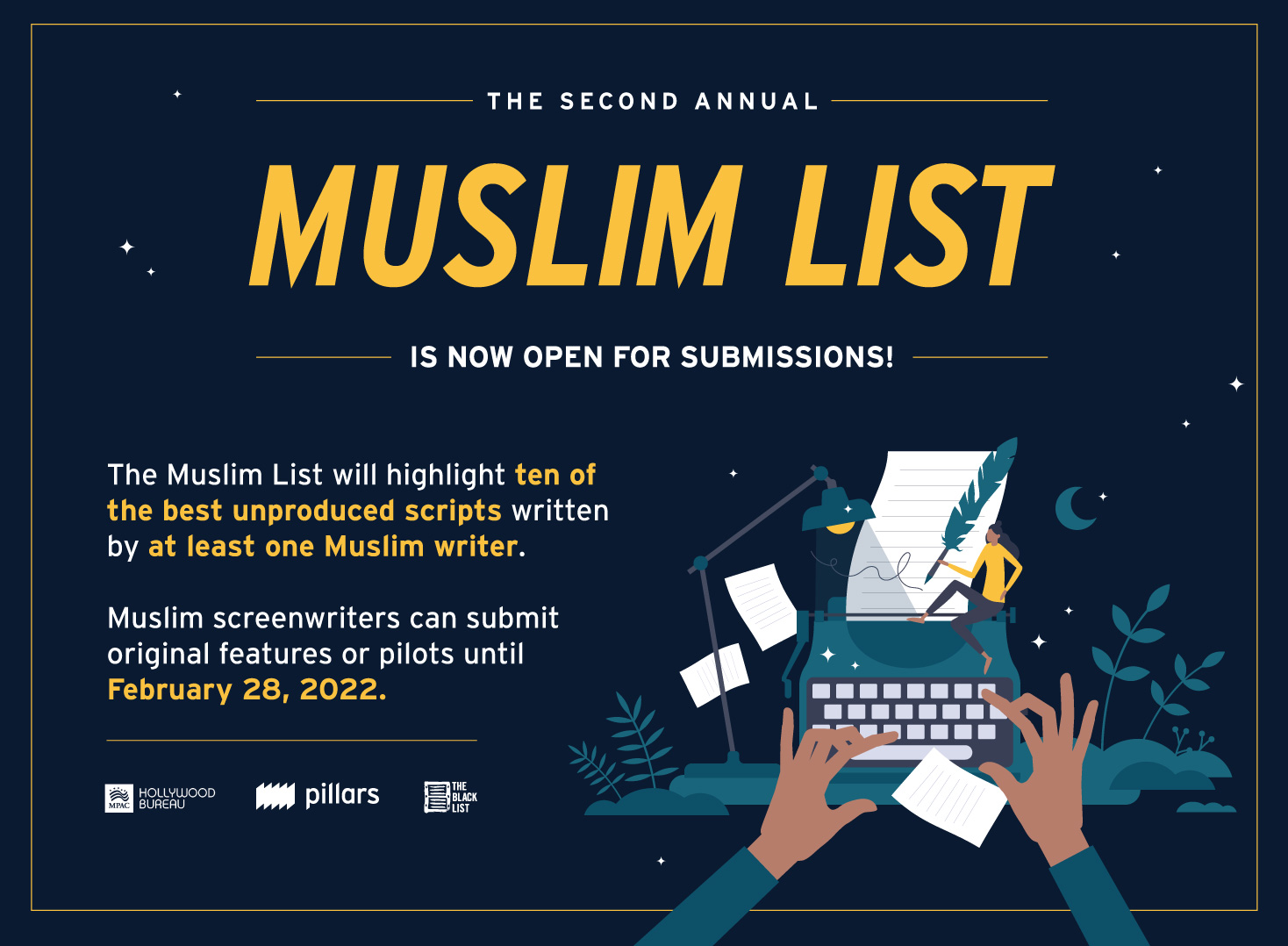 Pillars Fund
Presenting The 2021/2022 Muslim List
Posted By Pillars Fund, MPAC's Hollywood Bureau, and The Black List / December 1, 2021
The Muslim Public Affairs Council, Pillars Fund, and The Black List Present The 2021/2022 Muslim List
In partnership with the Muslim Public Affairs Council (MPAC) Hollywood Bureau and Pillars Fund, The Black List today announced the opening of submissions for the second annual Muslim List. Following the GLAAD List, CAPE List, Latinx Feature and TV Lists, the Disability List and the Indigenous List, this is the blcklst.com partnership to exclusively highlight Muslim screenwriters. The top ten original feature films and pilot scripts submitted will be selected for the second Muslim List.
Submissions will remain open via blcklst.com from December 1, 2021 to February 28, 2022. Eligible writers may submit their scripts any time during that period, with an evaluations purchase deadline of January 28, 2022. For more information about requirements and eligibility, please read the FAQ.
Selected writers will be notified of their placement in spring 2022, with a public announcement to follow.
Requirements for The Muslim List are below:
Writers should identify as Muslim. While writers can be from any country of origin, they must currently reside in the U.S.

Writing teams are eligible as long as one member of the team identifies as Muslim.

Scripts can be multilingual as long as they are written primarily in English.

Feature films and original television pilots will be accepted, no web series or documentaries please.
Participating organizations are thrilled to launch the second edition of The Muslim List and had the below to say about the partnership:
"The 2020 Muslim List was a great success and we couldn't be more excited to partner with The Black List and Pillars Fund on the 2nd annual Muslim List. American Muslim communities are rich with talent and we're honored to provide opportunities that help move the needle forward. We are grateful to Franklin Leonard and the entire Black List team for elevating the voices, stories, and profiles of American Muslims through the list." -Sue Obeidi, Director, MPAC, Hollywood Bureau
"We are delighted to bring back The Muslim List for a second year. This is an incredible opportunity for Hollywood to support talented Muslim voices and to see what is possible when they pass us the mic." -Arij Mikati, Managing Director of Culture Change, Pillars Fund
"It remains disappointing that lists like this and others remain so necessary in the film and television industries in 2021, but one silver lining is that it gives us a good excuse to partner with extraordinary folks like MPAC and Pillars in increasing the visibility of a wide variety of scripts from Muslim writers. I'm very much looking forward to reading the work of the writers we find this year and, even moreso, seeing the films and television that they write beyond that." -Franklin Leonard, Founder, the Black List
Additionally, writers from the inaugural Muslim List have found success since being announced in May of 2021:
Shireen Alihaji's

BLUE VEIL

, also placed on the Cannes List, was developed and workshopped as a part of the Athena Writers Lab, and is a finalist for the Cassian Elwes Independent Screenwriting Fellowship. A proof of concept is also available and playing film festivals this fall. 

Nabeel Arshad is currently developing his script

ULTIMATE SUCCESS

with Ahmed Musiol at Familiar Stranger, and is staffed on COCOMELON.

Nadra Widatalla is in development with a major studio.
For more information, please contact Kate Hagen (kate@blcklst.com)
ABOUT THE BLACK LIST
The Black List, an annual survey of Hollywood executives' favorite unproduced screenplays, was founded in 2005. Since then, at least 440 Black List scripts have been produced, grossing over $30 billion in box office worldwide. Black List movies have won 54 Academy Awards from 267 nominations, including four of the last twelve Best Picture Oscars and eleven of the last 28 Best Screenplay Oscars.
In October of 2012, the Black List launched a unique online community where screenwriters make their work available to readers, buyers and employers. Since its inception, it has hosted nearly 80,000 screenplays and teleplays and provided more than 130,000 script evaluations. As a direct result of introductions made on the Black List, dozens of writers have found representation at major talent agencies and management companies, as well as sold or optioned their screenplays. Several films have been produced from scripts showcased on the website including Golden Globe nominated NIGHTINGALE, starring David Oyelowo.
Currently, the Black List hosts over 5,000 scripts by approximately 3,700 writer members. These scripts are available for download by industry professionals ranging from agency assistants, to studio and network presidents, to A-list actors and directors.
The Black List's first feature production, COME AS YOU ARE, debuted at SXSW in 2019 and is Certified Fresh on Rotten Tomatoes (98% Critics, 80% Audience). Its second feature, BREAKING NEWS IN YUBA COUNTY, directed by Oscar-nominated director Tate Taylor and starring Allison Janney, Mila Kunis, Regina Hall, Awkwafina, Wanda Sykes, and Juliette Lewis, was released in February 2021 by MGM Studios.
More information on the Black List is available at www.blcklst.com. For regular updates, join our mailing list or follow the Black List on Facebook, Twitter, and Instagram.
ABOUT THE MUSLIM PUBLIC AFFAIRS COUNCIL (MPAC)
MPAC's Hollywood Bureau changes the narrative of Muslims in the entertainment industry so that audiences see Muslims as vital contributors to creating social and cultural change in America and around the world. They do this by engaging decision makers and creatives to improve the quality of authentic, nuanced, and inclusive depictions of Muslims and by creating opportunities for Muslim storytellers to tell their own stories.
ABOUT PILLARS FUND 
Pillars Fund amplifies the leadership, narratives, and talents of Muslims in the United States to advance opportunity and justice for all. Since its founding in 2010, Pillars has distributed more than $6 million in grants to Muslim organizations and leaders who advance social good. Pillars invests in community-focused initiatives, pushes back against harmful narratives, uplifts Muslim stories, and gives collectively to generate resources within Muslim communities for social good. Learn more at pillarsfund.org.