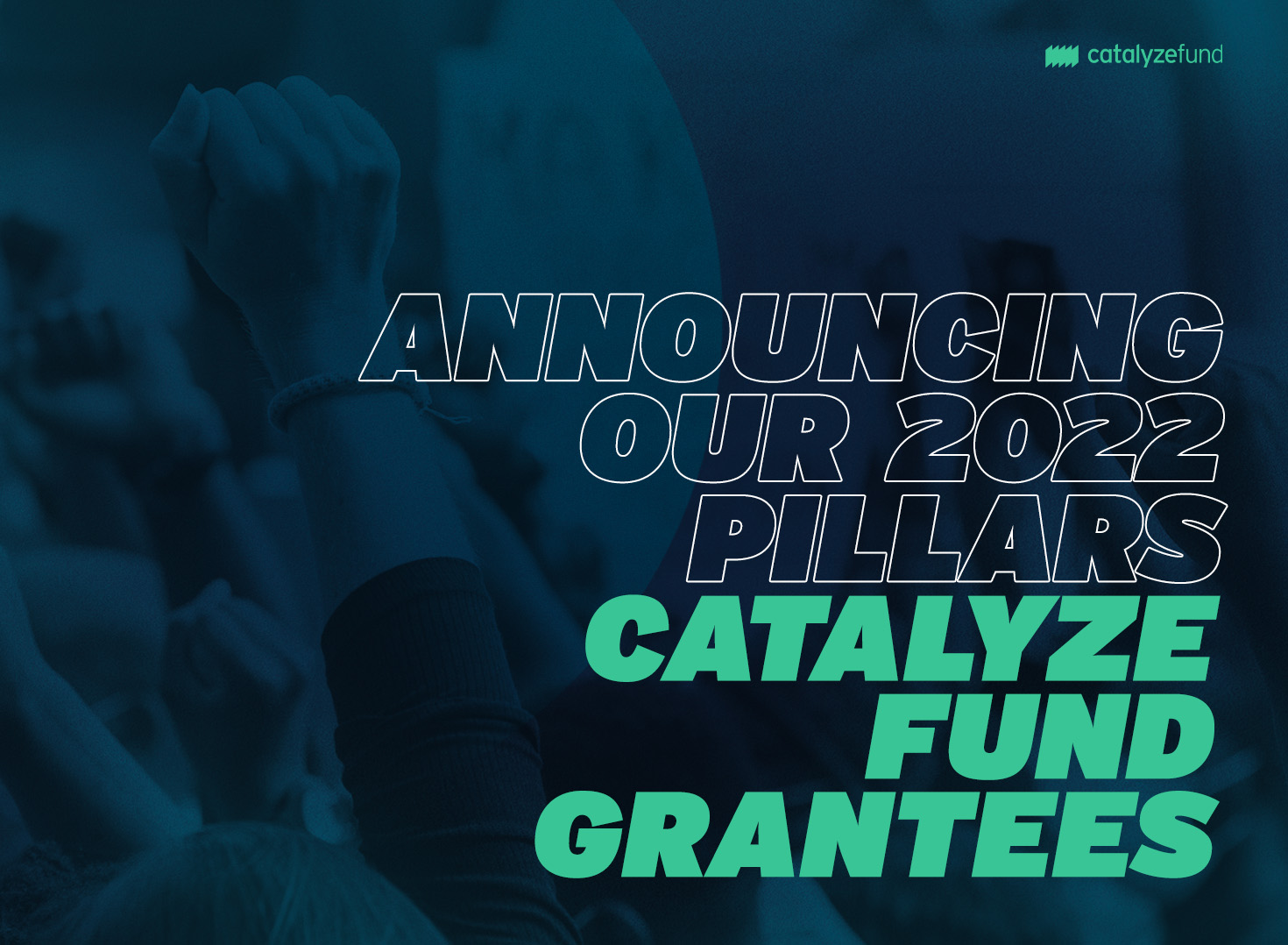 Pillars Fund
Pillars Fund Announces Grants for Visionary Muslim Nonprofits
Posted By Pillars Fund / February 24, 2022
Today, Pillars Fund is honored to announce the recipients of the 2022 Pillars Catalyze Fund grants, an annual initiative that supports a vibrant group of Muslim civic leaders. This year Pillars is supporting 32 Muslim-led nonprofit organizations with a combined $2 million in grants, the largest funding amount in the foundation's history.
Pillars is a Chicago-based foundation, and its network of Muslim donors has been supporting Muslim-led social change for more than a decade. These organizations are addressing mass surveillance, immigrant detention, money bond, religious discrimination, mental health, and voter engagement, among other urgent issues. 
"Our country is in desperate need of leaders to help us build safer, more healthy, more equitable communities. Muslims are at the forefront of these challenges. Pillars Fund is honored to stand behind our grantees, whose transformational leadership is changing the game for all of us," said Kashif Shaikh, Co-founder and President, Pillars Fund.
Pillars grantee partners are taking on our country's most pressing challenges. With midterm elections approaching, Pillars grantees are already cultivating stronger community civic engagement in Georgia and other areas notorious for voter disenfranchisement. As criminal justice reform continues to be a national conversation, Pillars grantees are building on wins in Illinois to challenge money bond systems nationwide. And during a pandemic that continues to wear upon mental health, Pillars grantees are conducting research to better understand what healing and wellness can look like for Muslims in the U.S.
"Today's Muslim leaders are continuing a long legacy of organizing movements across this country," said Kalia Abiade, Vice President of Programs, Pillars Fund. "Pillars grantees have bold ideas that deserve our attention and full support. When so many of us long for a more just society, we are excited and honored to fund these Muslim leaders who are envisioning and driving that future for us all."
This year, Pillars is awarding larger multi-year support to ten organizations to equip them with the resources they need to build stronger organizations and transform society. The goal of this support is to allow organizations to grow and build movements that outlast the current moment. To all of its grant recipients, Pillars offers flexible funding, professional development opportunities, digital media support, and networking within nonprofit and philanthropy spaces to develop relationships among established institutions. 
The 2022 Pillars grantees include the following organizations: 
Action Center on Race and the Economy

American Muslim Civic Leadership Institute

American Muslim Health Professionals

The Appellate Project

Believers Bail Out

CUNY's Creating Law Enforcement Accountability and Responsibility Project

Dream of Detroit

Emgage Foundation

Faith in Action's Muslim Power Building Project

Georgia Muslim Voter Project

Global Deaf Muslim USA

Hurma Project

Illinois Muslim Civic Coalition

Inner-City Muslim Action Network

Institute for Social Policy and Understanding

International Museum of Muslim Cultures

Inverse Surveillance Project

Justice for Muslims Collective

MALIKAH

Maristan

MPower Change

Muslim Anti-Racism Collaborative

Muslim Wellness Foundation

National Immigration Project

New American Leaders

Pillars of the Community

Project South

Reviving the Islamic Sisterhood for Empowerment

Sapelo Square

Stanford Muslim Mental Health and Islamic Psychology Lab

Vigilant Love

Yemeni American Merchants Association

ABOUT PILLARS FUND

Pillars Fund amplifies the leadership, narratives, and talents of Muslims in the United States to advance opportunity and justice for all. Since our founding in 2010, Pillars has distributed more than $8 million in grants to Muslim organizations and leaders who advance social good. We invest in community-focused initiatives, push back against harmful narratives, uplift Muslim stories, and give collectively to generate resources within Muslim communities for our common benefit. Learn more at pillarsfund.org.