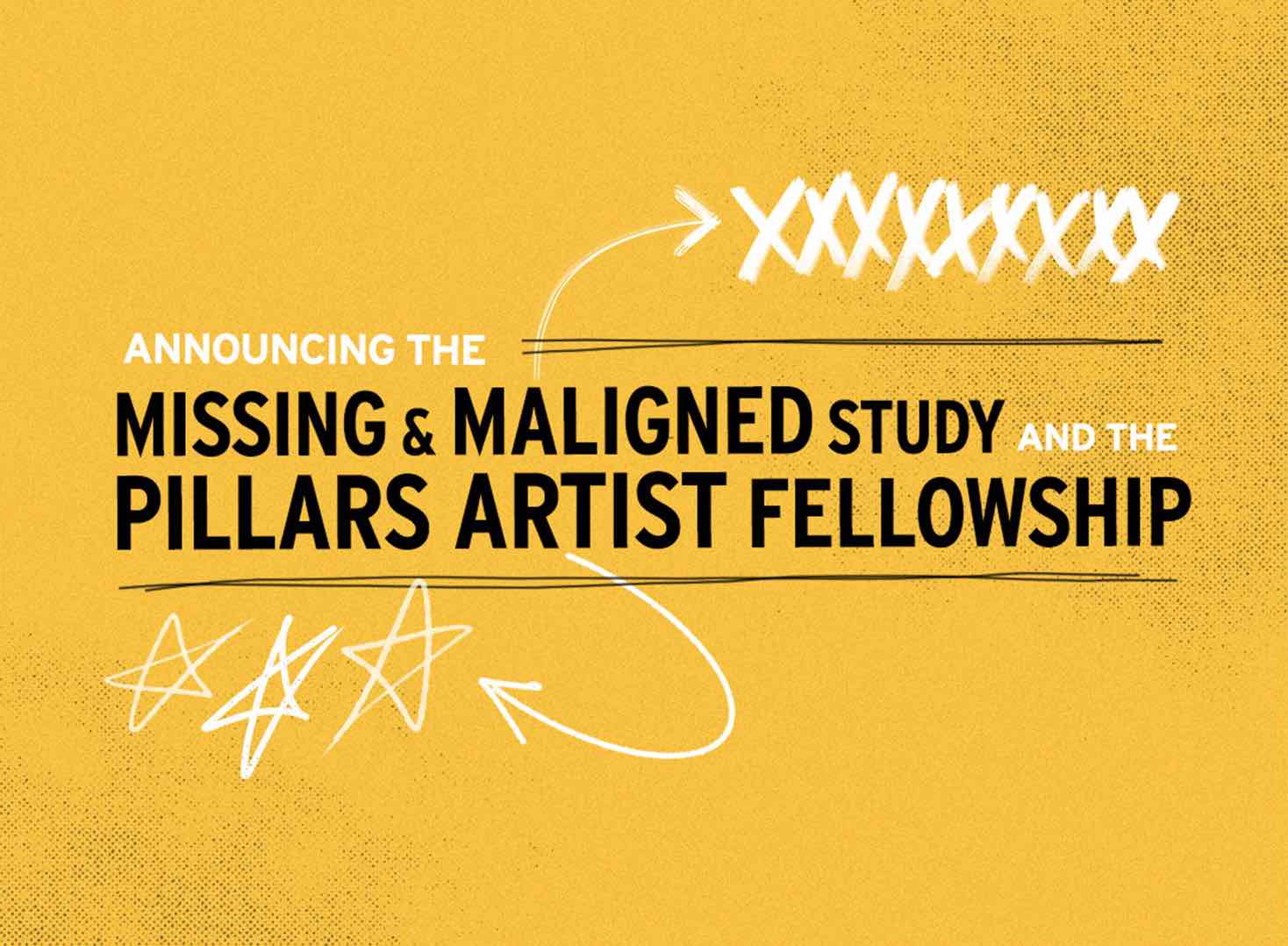 Pillars Fund
Coalition Unites to Define and Address Issues of Muslim Representation in Film
Posted By Pillars Fund, Ford Foundation, USC Annenberg Inclusion Initiative, & Riz Ahmed / June 10, 2021
A new study Missing & Maligned: The Reality of Muslims in Popular Global Movies from the USC Annenberg Inclusion Initiative funded by the Ford Foundation reveals erasure and demeaning portrayals of Muslim characters across 200 top films.
Muslims are the fastest growing and most racially and ethnically diverse religious community in the world. Yet according to a new study released today, Muslim characters are missing on screen and when they do appear in popular movies, are depicted with dangerous stereotypes that can create psychological and physical harm.
The report, entitled Missing & Maligned: The Reality of Muslims in Popular Global Movies was released by Dr. Stacy L. Smith and the USC Annenberg Inclusion Initiative with support from Academy Award-nominated actor Riz Ahmed, the Ford Foundation and Pillars Fund. The groundbreaking study includes a quantitative and qualitative exploration of Muslim representation in 200 popular films from the U.S., U.K., Australia, and New Zealand released between 2017 and 2019. The results point to the scope of the problem and have prompted action from this coalition of voices to tackle some of the underlying reasons for the lack of Muslims in popular movies.
"The representation of Muslims on screen feeds the policies that get enacted, the people that get killed, the countries that get invaded," said Academy Award-nominated actor Riz Ahmed. "The data doesn't lie. This study shows us the scale of the problem in popular film, and its cost is measured in lost potential and lost lives."
"The data doesn't lie. This study shows us the scale of the problem in popular film, and its cost is measured in lost potential and lost lives."
As Ahmed notes, the problem is vast. Less than 2% of more than 8,500 speaking characters across the films examined were Muslim. When the movies were examined by country of origin, 5.6% of characters in 32 Australian films were Muslim, as were 1.1% of characters in 100 U.S. movies, and 1.1% of characters in 63 U.K. films. None of the 5 movies from New Zealand featured a Muslim character in a speaking role on screen.
The overall percentages reveal one metric regarding the invisibility of Muslims, but the study also catalogues the erasure of this community in another way. Less than 10% of the 200 films studied– 9.5% or 19 movies– featured at least one Muslim character speaking on screen. In other words, 90.5% of movies did not include a single Muslim character in a speaking role.
"The erasure of Muslim characters is particularly notable in animation, where not one of the animated movies we examined featured a Muslim character," said Dr. Smith. "Paired with the finding that only 7 Muslim characters were children, popular movies send a strong message to children that Muslims do not belong and are not worthy of inclusion in storytelling. Is this the lesson we want young viewers to learn about themselves or others: that if you are Muslim it is acceptable to be erased?"
The study also explored the intersectional nature of Muslim identity. The majority of Muslim characters were boys and men (76.4%) while 23.6% of all Muslim characters were girls and women. The majority (66.7%) of Muslim characters were Middle Eastern/North African, 20.8% were Asian, 5.6% were Black/African American, 4.2% where white, and 2.8% were multiracial/ multiethnic. Only 1 Muslim character was identified with the LGBTQ community and 1 Muslim character was shown with a disability.
When Muslim characters do appear in film, a set of qualitative findings from the report shed light on the ways that the community is stereotyped: as outsiders, threatening, and as subservient, particularly to white characters. Just over half of all Muslim characters appeared in films set in the past, and the majority were shown in the Middle East/North Africa, India, or Europe. Essentially, Muslim characters were primarily shown in places other than the countries whose films were included in the study.
"More than half of the primary and secondary Muslim characters in these films were immigrants, migrants, or refugees, which along with other findings in the study consistently rendered Muslims as 'foreign,'" said Al-Baab Khan, one of the study authors. "Muslims live all over the world, but film audiences only see a narrow portrait of this community, rather than viewing Muslims as they are: business owners, friends and neighbors whose presence is part of modern life. By presenting Muslims in an abundance of storylines, audiences can see and resonate with the innumerable experiences of Muslims from all walks of life."
The report also notes that roughly one-third of Muslim characters are perpetrators of violence, and more than half are targets of violence. Muslim primary and secondary characters are also likely to be shown in clothing or with artifacts that reflect their faith. Additionally, Muslim women continue to be shown in stereotyped and submissive ways. The few primary and secondary Muslim women characters were primarily shown as potential romantic partners or family members. Read the full report at http:///annenberg.usc.edu/aii.
In response to these findings, USC Annenberg Inclusion Initiative joined a coalition of partners spearheaded by Pillars Fund to create The Blueprint for Muslim Inclusion.
"The Missing and Maligned study reveals the scope of the problem facing Muslims in entertainment, and the urgent need for solutions that increase the presence of Muslim voices in storytelling," said Kashif Shaikh, Pillars Fund Co-Founder and President. "The Blueprint for Muslim Inclusion offers a direct response to these findings by providing a broad set of recommendations for film industry professionals. We're excited to support the industry to take practical steps towards more nuanced portrayals that amplify Muslim voices, from sunsetting terror tropes and signing first look deals with Muslim creatives to including Muslims in diversity, equity, and inclusion programming."
The Blueprint includes short, medium, and long-term solutions for change, concrete recommendations for everyone from production companies to drama schools, and a suite of practical resources and contacts to support everything from script screening to casting. Read the full set of recommendations here.
In addition, Pillars Fund in partnership with Riz Ahmed and Left Handed Films is announcing an innovative new fellowship that seeks to transform the cultural landscape by creating opportunities for Muslim storytellers.
The Pillars Artist Fellowship will focus on Muslim artists in the U.S. and U.K. at the early stage of their career, offering multiple selected fellows an unrestricted award of $25,000 and career development support.
The Pillars Artist Fellowship will focus on Muslim artists in the U.S. and U.K. at the early stage of their career, offering multiple selected fellows an unrestricted award of $25,000 and career development support.
The hope is that substantial financial and professional support can create the kind of talent pipeline that will help shift on-screen representation. Championing the artist fellows will be an advisory committee of Muslim artists who have been trailblazers in the industry, including Riz Ahmed, Mahershala Ali, Sana Amanat, Karim Amer, Rosa Attab, Lena Khan, Nida Manzoor, Hasan Minhaj, Jehane Noujaim, and Ramy Youssef.
Designed as a multi-year program, the fellowship will focus in its first pilot year on directors and writers from film and television. In further years, it will expand to cover storytellers from other disciplines, including literature, music, and visual arts. In addition to the unrestricted grant, Pillars Artist Fellows will receive a curriculum of tailored professional development resources including workshops delivered by industry experts, fireside chats from the high-profile advisory committee, and proactive one-on-one mentorship.
"Muslim communities are bursting with talent—it's our duty and privilege to support these incredible artists and provide them the opportunity to tell their own stories," said Arij Mikati, Pillars Fund Managing Director of Culture Change. "Right now, a pathway to success doesn't exist for many Muslim creatives. The Pillars Artist Fellowship addresses this by providing them the funds, connections, and high-support, high-challenge community needed to reach their greatest aspirations."
"Muslim communities are bursting with talent—it's our duty and privilege to support these incredible artists and provide them the opportunity to tell their own stories."
Riz Ahmed added: "I know the industry has the imagination and the resources to fix this problem. Now it must show the will, and the Blueprint for Muslim Inclusion can offer a practical roadmap for change. The Fellowship also offers a meaningful way to intervene. Having a source of unrestricted funding for Muslim artists and storytellers will be game changing. Muslim communities in the US and UK are amongst the most economically disadvantaged, and yet currently there's nothing else out there like the Pillars Artist Fellowship which really invests and believes in the talent pipeline. Had I not received a scholarship and also a private donation, I wouldn't have been able to attend drama school."
"Film and television provide a powerful lens through which we see and understand the cultures and communities around us and relate to the world at large," said Noorain Khan, director of the Office of the President for the Ford Foundation. "For too long, depictions of Muslims in entertainment have failed to match the richness and diversity of our lived experiences and we have felt the impact of these flattened portrayals firsthand. At Ford, we are proud to support the collective efforts of the Pillars Fund, Riz Ahmed, and the USC Annenberg Inclusion Initiative to clearly illuminate the extent of the misrepresentation and create a roadmap towards a more just future."
Pillars Artist Fellows will be selected via nomination process and will be announced later this year. See here for more information.
ABOUT USC ANNENBERG INCLUSION INITIATIVE
Launched more than 10 years ago by Founder Dr. Stacy L. Smith, the Initiative is globally recognized for its valuable and sought-after research solutions to advance equality in entertainment. Dr. Smith and the Annenberg Inclusion Initiative examine gender, race/ethnicity, LGBT status, disability, and age on screen and gender and race/ethnicity behind the camera in cinematic and television content as well as barriers and opportunities facing women and people of color in the entertainment industry. The Annenberg Inclusion Initiative also conducts economic analyses related to diversity and the financial performance of films. In 2015, LA Weekly named Dr. Smith the #1 Most Influential Person in Los Angeles, and she has spoken at multiple high-profile engagements ranging from the TED Women stage to the White House and at the United Nations. Dr. Smith and the Annenberg Inclusion Initiative have been featured in The New York Times, Los Angeles Times, The Atlantic, Newsweek, The Hollywood Reporter, Variety, and NPR, among others. The Annenberg Inclusion Initiative's research reports include the Comprehensive Annenberg Report on Diversity (CARD), multiple landmark studies with Sundance Institute and Women in Film Los Angeles, and their yearly investigation of on screen and behind the camera roles across more than 1,100 top-grossing films. The Annenberg Inclusion Initiative is generously supported by The Annenberg Foundation, The David and Lura Lovell Foundation, and other corporate and individual sponsors. To learn more, visit http://annenberg.usc.edu/aii or follow on Twitter, Instagram, or on Facebook.
ABOUT PILLARS FUND
Pillars Fund amplifies the leadership, narratives, and talents of Muslims in the United States to advance opportunity and justice for all. Since our founding in 2010, Pillars has distributed more than $6 million in grants to Muslim organizations and leaders who advance social good. We invest in community-focused initiatives, push back against harmful narratives, uplift Muslim stories, and give collectively to generate resources within Muslim communities for Muslim communities. Learn more at pillarsfund.org.
ABOUT FORD FOUNDATION
The Ford Foundation is an independent, nonprofit grant-making organization. For more than 80 years it has worked with courageous people on the frontlines of social change worldwide, guided by its mission to strengthen democratic values, reduce poverty and injustice, promote international cooperation, and advance human achievement. With headquarters in New York, the foundation has offices in Latin America, Africa, the Middle East, and Asia.
ABOUT RIZ AHMED
Riz Ahmed is an Academy Award nominated actor, writer, producer, and musician, as well as one of TIME's 100 Most Influential People (listed in 2017). Themes of inclusion and representation run throughout Riz's work as a creator and activist, from his roles in projects such as SOUND OF METAL, THE NIGHT OF, and MOGUL MOWGLI, to his essay in Nikesh Shukla's "The Good Immigrant," his 2017 address to Parliament on diversity in the creative industries, and his appointment to the Mayor of London's 2021 Commission for Diversity in the Public Realm. Whether he's using his power as a producer to bring refugee narratives to our screens via his production company Left Handed Film, writing about the inequalities of the Covid pandemic as contributing editor of British Vogue, or exploring Britishness through his critically-acclaimed music release "The Long Goodbye," the Gold List A100 honoree is driven by a mission to stretch culture, reimagine our narratives and landscapes of belonging, and include rather than divide.
ABOUT LEFT HANDED FILMS
Left Handed Films is the production company started by Riz Ahmed, focused on stretching culture through telling fresh stories in bold ways. In Jan 2021, it was announced that Left Handed Films inked a first-look television deal with Amazon Studios and hired former AMC exec Allie Moore to oversee production and development.
Left Handed Films has several projects on the horizon including Mogul Mowgli, a genre-busting, culturally hybrid, and award-winning debut feature from an exciting new voice in Bassam Tariq. The film is co-written, starring and produced by Ahmed and premiered at the Berlin Film Festival where it won the Fipresci International Critics' Prize. It was nominated for a BAFTA Award for 'Best British Film' and received six British Independent Film Awards nominations, with the film taking home 'Best Debut Screenwriter' for Ahmed and 'Best Music'. Strand will release the drama in the U.S. this year.